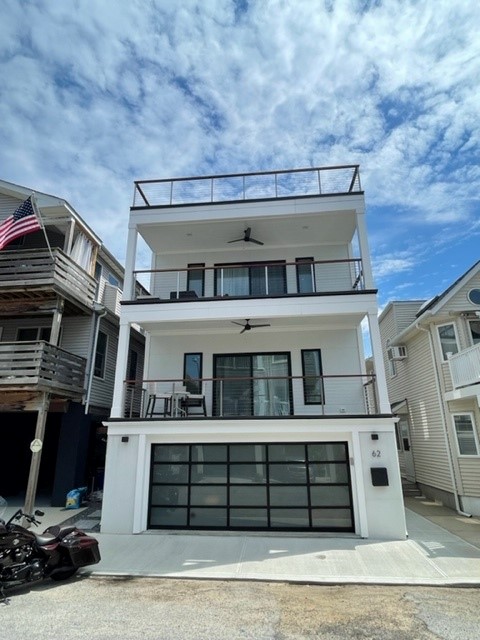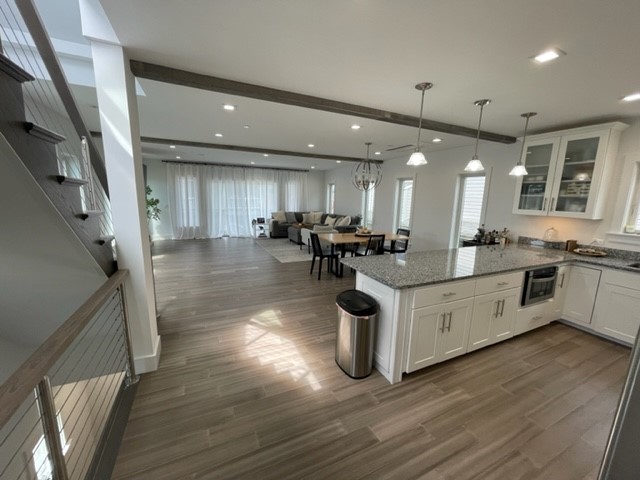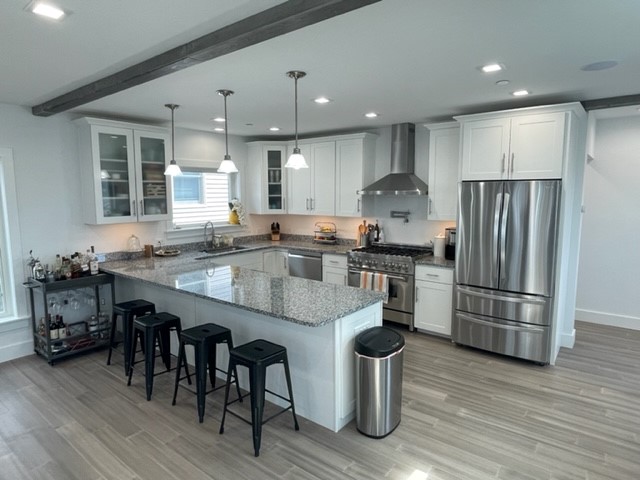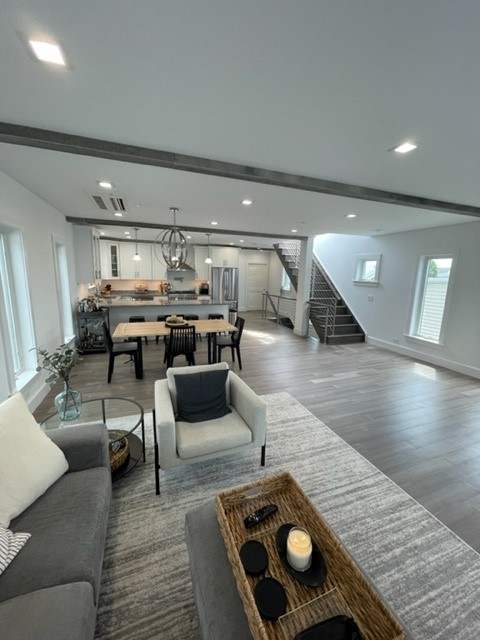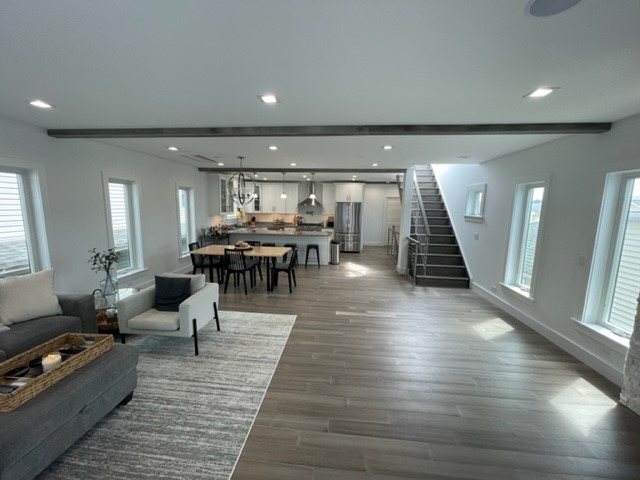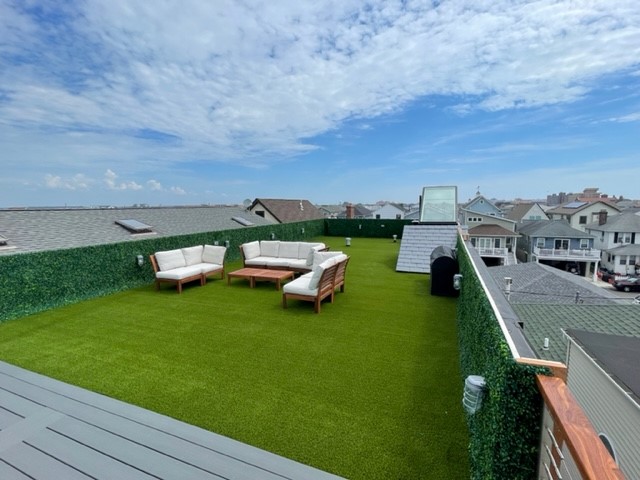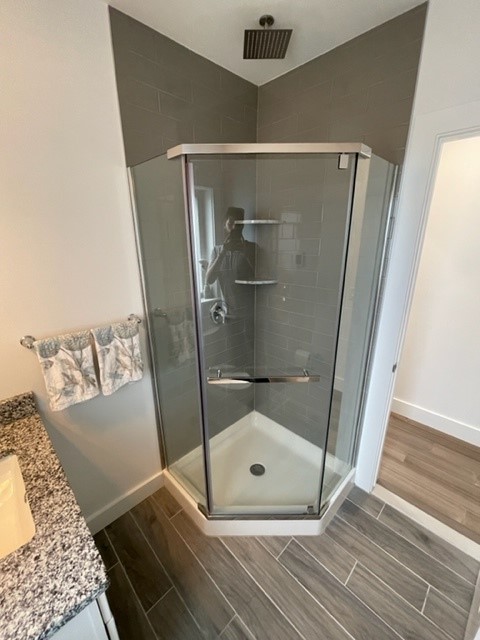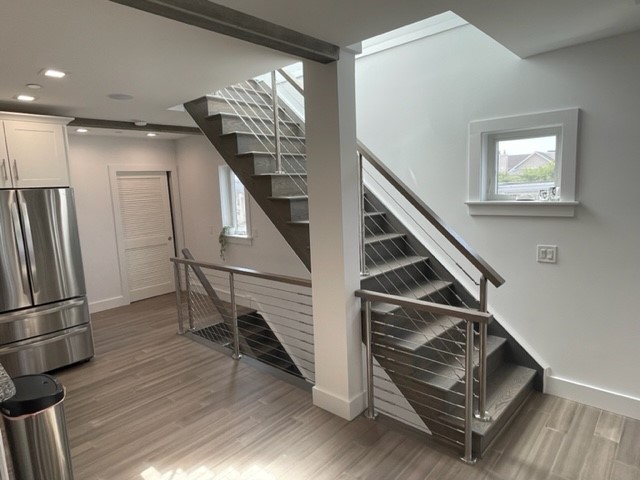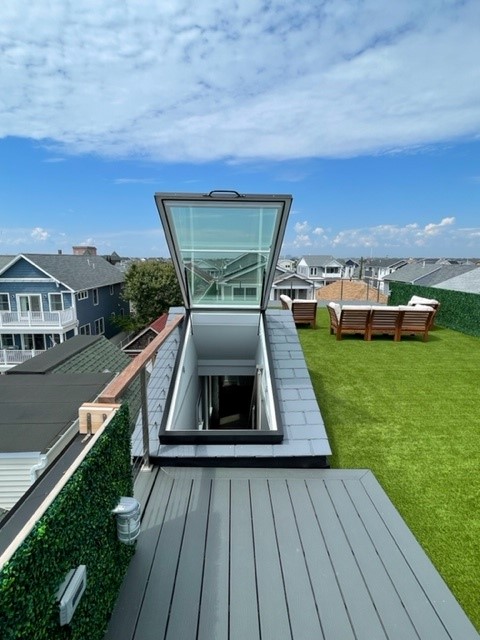 Home of the Month Summary
Manufacturer: Simplex Homes
Location: Long Beach, New York
Stories:  2
Bedrooms:  3
Bathrooms:  3
The house has a custom kitchen with white shaker cabinets, granite countertops. All bathrooms have custom tile work. The house includes a Kitchen, 3 bedrooms, 3 bathrooms, living room, dining room, office and a custom roof top deck. The entrance to the roof deck is electronic sky hatch. The first floor is a raised concrete foundation with a garage and a rear outdoor shower.
Contact Simplex Homes
Home of the Month Interview
MHBA's home of the month for March 2023 goes to a project by Simplex Homes in Long Beach, New York. The site had strict requirements, but Simplex turned the lot into a beautiful, unique modular home with innovative features like a sky hatch leading to a roof with a turf lawn.
About Simplex Homes
Simplex Homes has been in business since 1971, originating in Scranton, Pennsylvania. Brothers Frank, Patrick and Henry Fricchione founded the company together and continue to operate as a family business. Simplex prides itself on building green with environmentally friendly facilities. They also recycle as many building materials as possible in construction while building LEED and Energy Star-certified homes.
Spearheading this Long Beach, New York, project was Dave Mertz and Peter Barbuti. Mertz is the vice president of sales and marketing, with 33 years of industry experience and 23 years at Simplex. Barbuti is the director of business development at Simplex. He's been in the industry for nearly two decades, spending the last nine at Simplex.
Simplex Homes is no stranger to awards. For example, in 2020, they won Home of the Year with the MHBA. They've also won multiple awards with the National Association of Home Builders for their excellence in home design and outstanding model centers
Collaboration

With East Coast Dormer
Simplex built this beautiful home with East Coast Dormer, one of the leading modular home and addition companies in the Northeast. East Coast Dormer has been in the industry since 1994, with Scott Boerckel at the helm.
Building in Long Island can be challenging because of the construction. Despite the tough sledding, Mertz says Boerckel was instrumental in the home's structure.
"What they really specialize in is second-floor additions to existing homes, which is different than in this case," Mertz said. "But on Long Island, there's an abundance of construction out there.
"Scott really carved his niche by coming in and tearing the roof off and putting a second-floor addition on."
Simplex Homes is unique because they function as a B2B company. They supply modular parts to contractors like East Coast Dormer, with whom they've worked for about a decade. Simplex Homes connects clients with builders like East Coast Dormer if they want a modular home. Tackling building requirements can be challenging — especially in Long Island — so they help the end user solve the intricacies that come with the building.
Navigating Complex Requirements
One challenging part of constructing the house was the building requirements in Long Beach. The site was tight, requiring the builders to get creative with the home.
"This was a different build because it went out in Long Island," Barbuti said. "So it had to be broken up into smaller pieces to fit.
"There were height restrictions on how high you could build. I know there were a lot of design criteria that had to be met. When you look at the plan, there's a drive-in garage underneath of it that became a little tricky."
Long Beach and Nassau County's building codes determine how high the building can be. Structures typically range from 20 to 33 feet tall, depending on the section of the city you're building. Some exceptions apply for mixed-use developments.
Another complicated part of the Long Island home was the timetable — it took about a year to get approval on all fronts for the design. Plus, they had to account for tearing the current house down.
"The permitting process on Long Island is generally longer than the average," Barbuti said. "And then he had to tear the house down.
"So then there's permits to tear the house down and get the site ready. It took about a year to get everything to the point where they were ready to order the home."
Despite the tight requirements, construction took little time. In fact, it only took about 24 hours to put the modular home together once the pieces arrived. Modular construction typically takes about 12 weeks to complete — half the time of stickbuilt structures that need 23 weeks on average. They attribute the shorter northeastern summers to the lower traffic.
"What's unique about these beach towns and coastal towns is you don't have people there throughout," Barbuti said. "You can get this house set and done and then get people in there working on it to finish it instead of disrupting the summertime with people because their season is so short out there."
The MHBA Home of the Month: March 2023
The home of the month was a custom design for Simplex Homes. It's a two-story home with three bedrooms, two baths and an open floor plan. What makes the house unique is the roof with turf on the top, making it ideal for hosting and entertaining. The roof and the sky hatch are two features that stand out, leading to an award-winning structure.
"It's definitely a unique design," Barbuti said. "You know that roof sky hatch is something I've never seen before.
"This house is where the coastal and beachfront properties are few and far between. Sometimes they can become cost-prohibitive. So with a customer like this, they want to get up as high as they can and utilize the roof space for entertaining."
The home features tray ceilings, also known as recessed ceilings. The tray ceilings are one feature that makes the house feel inverted because of its design.
"These houses, when they're at the beach area, they're designed upside down," Mertz said. "When I say that, I mean they put the kitchen and living areas on the second floor, and then the bedrooms are on the first floor.
"The house was broken up into smaller parts so it could fit in a tight sight, but the kitchen, dining room and living area is one massive open space, and it needed additional support. And it needed steel in there to carry the loads on the building so they can have greater spans."
The house is close to the beach but not directly on it. However, you can see the ocean from the rooftop. They designed the home to be a primary residence for the client. Northeast winters can get cold. The average low in January and February dips below 32 degrees Fahrenheit, so the house features electronic floor heat under the bathroom tiles. Plus, there's a 60-inch linear gas fireplace.
Changing the Tune of Modular Homes
Modular homes have become more prevalent in recent years because of their affordability and efficiency. Buyers still need education about modular homes to distinguish them from manufactured or mobile homes.
"Every time I talk with somebody about this, nobody understands that modular today is not at all what it used to be," Mertz said. "It's not those cookie-cutter homes anymore.
"It's completely different, and you would never know the difference between a stick built and a modular. Even if it's a basic modular home when completed, you would have to have a pretty strong understanding of building to really look at that and say, 'Oh yeah, this is a modular.'"
Nowadays, customers have numerous options when designing their modular homes. With Simplex homes, people can choose from pre-engineered plans as a starting point. The vast majority of Simplex homes are custom designs, allowing clients to create houses to their liking down to the tiny details. It's a far cry from how it was even a decade ago.
"I first got involved in this business in 1989," Mertz said. "And at that time, most modular manufacturers were building homes that they offered out of their brochure.
"What you saw is what you got. And there was very little customization to move an internal wall on an existing plan at times."
Modular building has existed for longer than most people realize, with contemporary techniques rising after World War II. Nowadays, countries like Sweden rely on prefabricated housing, with over 80% of Swedish homes coming from modular construction. In the US, modular homes are becoming more and more popular as people come to understand their benefits.
Building With Simplex Homes
Simplex Homes has serviced much of the Northeast for over five decades, serving customers from Virginia and West Virginia up to New Hampshire and Maine. They offer various modular designs, such as ranch, two-story, cape and townhouse, duplex, triplex, campus housing and light commercial.
Explore more of MHBA's Homes of the Month submitted by modular home builders and manufactures around the country