Building Modular has many benefits. Whether it be for Home Owners or Builders/Suppliers, there are many different reasons to consider going modular.
Variety
Modular homes look like any other homes. Today's technology has allowed modular manufacturers to build almost any style of house, from a simple ranch to a highly customized contemporary.
Custom Design
The building process begins in the design phase. Our modular producers use state-of-the-art computer-assisted design stations that aid them in customizing floor plans and producing drawings and material requirement lists.
Attention to Codes & Standards
Modular homes are built to the same codes and standards as conventional stick built homes. A quality control process provides complete assurance that a home has been inspected for code compliance and workmanship. In-plant inspectors as well as independent agencies inspect the home on behalf of our state and local governments. 
Expedited Process
Efficiency begins with modern factory assembly line techniques. A modular home travels to workstations where all the building trades are represented. Work is never delayed by weather, subcontractor no-shows or missing materials. 
Energy Efficiency & Sustainability
Quality engineering and modular construction techniques significantly increase the energy-efficiency of a modular home. 
Reduced Overhead Cost
Since most of the construction is done by the manufacturer in the factory, the builder is able to concentrate on sales and marketing. Manufacturers offer a wide range of sales and marketing support to the builder.
Better Job and Cost Control
With 80 to 90 percent of the work completed in a factory, fewer laborers and subcontractors are needed.
Sales and Marketing Support
Today's homebuyer wants a custom designed home that fits their individual lifestyle. The manufacturer has professional staff who can design the home to your customer's needs.
Custom Design
Modular homes are built to the same code required for site built homes. Each manufacturer has quality control personnel in the factory monitoring production as well as a separate third party inspector who ensures the quality and compliance of the home. Each manufacturer also employs service people who can help if a problem arises in the field.
Quality and Service
The bulk of the construction is completed in the factory under a controlled environment, so there are no delays due to weather or material shortages. The manufacturer will guarantee the cost of the home after the order is placed, for a reasonable period of time, so that unexpected cost overruns do not occur.
Increased Profit Potential
Reduced construction time, reduced labor and overhead costs and the ability for you to concentrate on sales and customer service all translate into increased profitability for the builder and greater satisfaction for the homebuyer.
Learn More About the Benefits of Modular Homes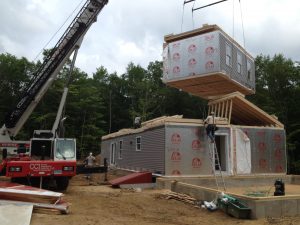 In 2007, the United States faced a housing crisis that caused the Great Recession and had economic ramifications for years. Some people called it the subprime mortgage crisis. One cause of the crisis is that lenders gave loans to potential homeowners even if the buyers couldn't afford them.