More Than Ever, The Modular Future Is Now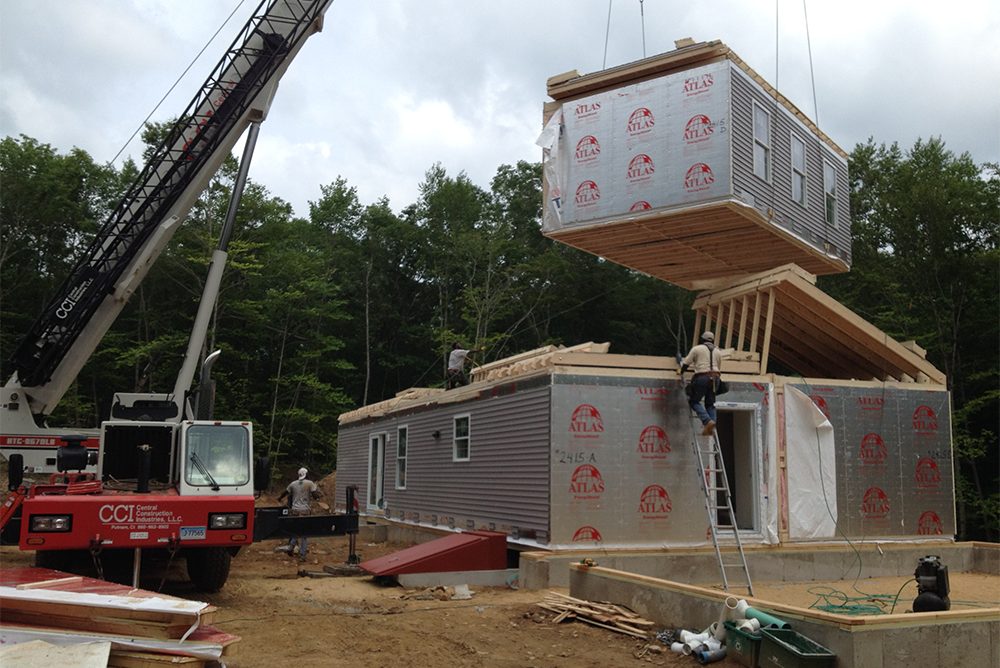 The modular building trend has experienced a recent surge in the United States with no sign of slowing down. While it's not an entirely new construction approach, the advantages have paved the way for real estate growth amid rising inflation and tight labor and supply constraints.
Across the country, modular projects are increasingly underway. Designers and contractors have shifted their working environments to factories, where structural modules are prefabricated and then transported and assembled at a site.
There are several reasons why modular buildings appeal to industry professionals and consumers alike. Here's everything you need to know if you're considering modular construction for your next home or commercial project.
Modular Buildings — A New Normal
The modular building market could be worth $114.78 billion by 2028, a 6.1% compounded annual growth rate. Following the height of COVID-19 and a severely impacted economy, modular construction has proved beneficial for streamlining operations and construction workflow as the industry bounces back.
Today, the modular market has expanded into single-family homes and multi-level structures. They accounted for 5.5% of new construction projects in the U.S. in 2021 — primarily due to saving time and money by manufacturing modules at factories. For instance, modular manufacturer Impact Housing constructs fast and cost-effective housing solutions to meet increasing demands, despite the construction industry's ongoing troubles.
Meanwhile, Plant Prefab in California can produce 25 to 30 units per year from its two solar-powered facilities. When its third factory opens, they anticipate manufacturing about 800 units, 15 times more than what they make now. Another modular manufacturer – Factory OS — estimates it'll create 2,400 modular units for 20 different development projects in California's Bay Area by the end of 2022.
Buyers are just as enthusiastic about the modular trend, opting for a prefabricated approach to their new construction. Since many home projects were delayed throughout the pandemic, people see modular building methods as an opportunity to construct houses and move in faster.
Benefits of Modular Construction
On a personal level, modular housing allows you to downsize in place and stay closer to your family. Many people want to maintain their independence as they age and they can do so by caring for less property with a smaller, modular home.
Likewise, many homeowners have turned to modular construction as they've moved their older parents in to live with them. Several builders — such as Millbrook Modular Homes — specialize in 800-square-foot additions to accommodate multigenerational households more comfortably.
Modular structures can be built 20% to 50% faster than conventionally-constructed buildings, with nearly 10% to 14% cost savings for some builders. This has significantly helped boost affordable housing and other public projects at a reduced cost in lower-income communities.
Other benefits of modular construction include the following:
Controlled working environments that avoid weather delays
Cleaner and safer working conditions
Ample materials and unit storage
Lower labor demand and costs
Less waste generation
Even before the pandemic, the construction industry lagged in meeting labor demands. Currently, the sector is down 650,000 workers and anticipates an even wider gap between unfilled jobs and a sluggish supply chain in 2023.
Fortunately, modular materials suppliers ensure lumber and other products are available for factory manufacturing, such as through Mariotti Building Products. Mariotti Building Products uses a 30-truck delivery fleet to supply full and partial truckloads of wholesale materials to the Tri-State area. The materials get stored at the supplier's 110,000-square-foot warehouse.
Off-site construction has the potential to improve productivity with fewer hands by accelerating the design process and utilizing automation in its manufacturing methods. With innovative management and digitization, contractors can gain better insight into risk analyses, necessary interventions and efficiency levels to ensure projects are on track.
The modular conveyor system is a prime example of a technological benefit of modular factories. Unlike what you currently see in supply chain disruptions, the modular conveyor system transports various products and units without requiring complex tech. These systems are also widely available and in use already — making them exceedingly cost-effective — and demand few skilled workers to operate.
The modular building approach also solves the problem of construction on unproductive sites. Unproductive sites are lots that are hard to build structures on — for instance, some sites have too many obstructions that render it difficult to carry equipment and materials into the work area.
Other times, the grounds aren't conducive for heavier materials or there's an electrical substation below. Fortunately, modular units are lighter than conventional construction materials yet still sturdy enough to meet building safety requirements.
Additionally, modular construction is better for the environment. Because modular manufacturing occurs off-site in a factory, there's 83.2% less waste generation for most projects and 47.9% less waste generated with larger developments.
Modular builders like Seattle-based Method Homes even list sustainability as their core value. They boast experience in structural developments meeting LEED Platinum standards by minimizing waste and environmental exposure.
An Evolving Industry
Modular construction is making remarkable headway in improving several building processes. Considering it is essentially the mass production of building modules, the design tends to be more consistent — a preferable format for multifamily housing projects and hotels with relatively standardized floor plans. In the future, modular floor plans of less-uniform structures will become more widely available.
Modular also means contractors, designers and buyers must square away the design and engineering details upfront. However, this isn't necessarily a bad thing. Unlike conventional construction, buyers simply need to make their final selections of finishes and appliances early on before prefabrication begins.
Transportation companies must plan the logistics of moving large units beforehand, considering tight turns, traffic, stop signs and bridges. They'll also need to look into maximum roadway weights and dimensions. Federal standards maintain an 80,000-pound limit for two 28-foot trucks, despite calls to Congress to increase the weight regulations by 14%. Fortunately, experienced manufacturers know how to rig, transport, lift and assemble modules with care to avoid repairs or replacements.
Those who opt for modular construction work within a much quicker timeline, including purchasing materials in advance and ensuring there are adequate funds to keep the project moving. However, more often than not, they're delighted with the outcome.
Modular Is Defeating the Odds and Here to Stay
Despite its challenges, modular construction is no longer something to look forward to — it's already reshaping the construction industry for the better. You can rest assured off-site construction isn't going anywhere with so many new projects underway.