2023 Modular Homes of the Year
Announced at the MHBA 2023 Annual Conference & Housing Summit, we are happy to present the 2023 MHBA Modular Homes of the Year. The MHBA Annual Conference & Modular Housing Summit is the most comprehensive meeting anywhere for modular home builders, architects, engineers, developers, and suppliers. The Modular Home Builders Association provides professionals in residential modular construction a place to network, exchange ideas, learn from experts, discuss issues, and grow professionally.
Congratulations to Simplex Homes for our Under 2,500 Sq Ft Home of the Year pick! The house has a custom kitchen with white shaker cabinets, granite countertops. All bathrooms have custom tile work. The house includes a Kitchen, 3 bedrooms, 3 bathrooms, living room, dining room, office and a custom roof top deck. The entrance to the roof deck is electronic sky hatch.
Congratulations to Atlantic Modular Builders and Excel Homes for our Over 2,500 Sq Ft Home of the Year pick! Custom design by the Atlantic Modular in-house design team. Situated on an irregularly shaped corner lot this house was designed to be an empty nester retirement home complete with a first-floor suite and 4 additional bedrooms for the kids to come back and enjoy the summers on the Jersey Shore. Check out our exclusive interview with Ryan Meyers about the home

More about our under 2,500 Sq Ft winner
Simplex built this beautiful home with East Coast Dormer, one of the leading modular home and addition companies in the Northeast. East Coast Dormer has been in the industry since 1994, with Scott Boerckel at the helm.
Building in Long Island can be challenging because of the construction. Despite the tough sledding, Mertz says Boerckel was instrumental in the home's structure.
"What they really specialize in is second-floor additions to existing homes, which is different than in this case," Mertz said. "But on Long Island, there's an abundance of construction out there.
"Scott really carved his niche by coming in and tearing the roof off and putting a second-floor addition on."
Simplex Homes is unique because they function as a B2B company. They supply modular parts to contractors like East Coast Dormer, with whom they've worked for about a decade. Simplex Homes connects clients with builders like East Coast Dormer if they want a modular home. Tackling building requirements can be challenging — especially in Long Island — so they help the end user solve the intricacies that come with the building... Read More
More about our Over 2,500 Sq Ft winner
Rising Through the Modular Ranks
Some construction companies have been around for nearly 100 years, giving them ample time to fit into a community. Atlantic Modular Builders has only existed since 2002, but the business hasn't taken long to make its mark. For the last 21 years, the builders have accomplished 125 projects and over 300,000 square feet of structures built.
You may recognize Atlantic Modular Builders for past appearances as the MHBA home of the month, with its stunning designs in New Jersey's Monmouth and Ocean counties. It's also a part of Sheri Koones' long-running book series on modular homes. Atlantic Modular Builders demonstrates the rise of modular building businesses through hard work and stepping up to any challenge.
Ryan Meyers, the design manager, is one of the team leaders. Meyers has been with Atlantic Modular Builders since 2003 and aims to fill the housing demand through modular building — even if it means fulfilling multiple roles.
"My main function for Atlantic Modular Builders is designer, but like most all businesses, we all tend to wear a few different hats," Meyers said. "So I'm involved with everything from client consultations, engineering and architecture."
Meyers said he was involved with the exterior design, landscaping, the pool and other noteworthy elements for this Manasquan house. Atlantic Modular Builders heavily focused on the design for this build, and you can see the effort inside and outside the home... Read More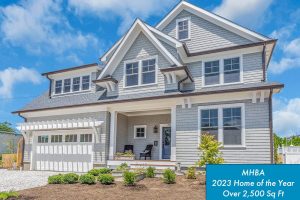 In 2007, the United States faced a housing crisis that caused the Great Recession and had economic ramifications for years. Some people called it the subprime mortgage crisis. One cause of the crisis is that lenders gave loans to potential homeowners even if the buyers couldn't afford them.